Public Policy and Government Affairs

Political Consulting and Strategic Campaign Management

Media and Public Affairs
Corey Bearak, an attorney, brings experience forged during 23 years in public service to provide strategic political counsel to clients who face difficult public policy matters or special needs in dealing with government.
Corey combines expertise in strategic public policy, politics and media to devise and manage strategies on behalf of trade unions, trade groups, coalitions, businesses, government and community agencies, individuals, public officials, and political candidates.
Find Corey's ebook The Public Ought To Know based on his public affairs and public policy column available for Amazon Kindle, Barnes and Noble Nook (and very soon) Apple iPAD.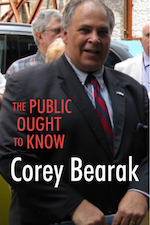 Corey received numerous awards and recognitions, including the prestigious Community Service Impact Award from the Community Newspaper Group.

Learn more about Government & Public Affairs Counsel Corey Bearak.

View Corey's Resume.

Download Corey's Curriculum Vitae.